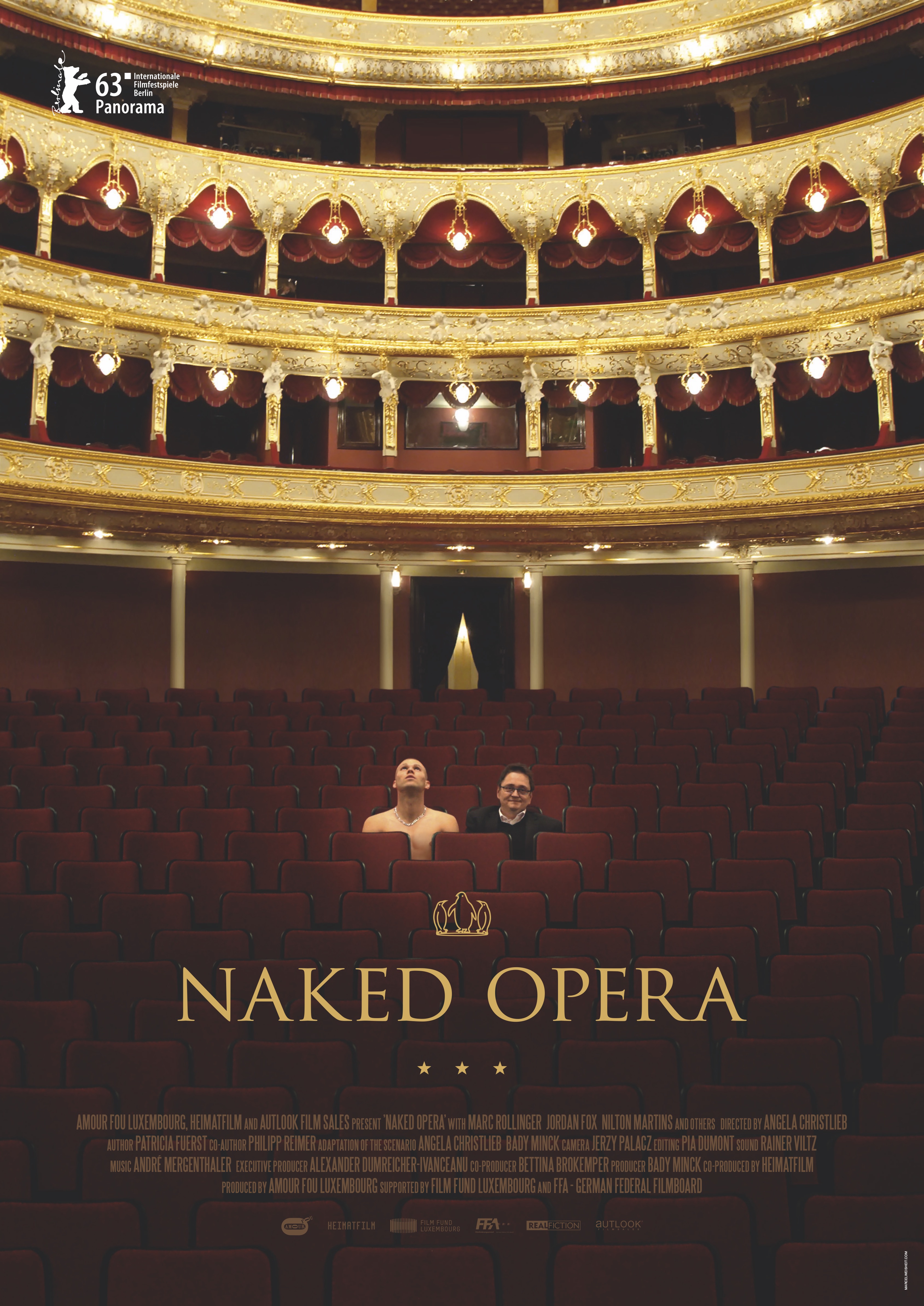 Synopsis
Naked Opera presents the story of Marc, a man of many sides and talents, brilliant and wealthy, a kind of Luxembourgish Don Giovanni. But, at the age of 36, Marc's life is overshadowed by the wounds of his childhood and marked by a destructive disease. Every weekend, he escapes from his businessman routine to indulge in entertainment, pleasure, luxurious hotels and young companions. He travels the world to see Mozart's opera Don Giovanni in which he finds the perfect representation of a life without compromise: intense and profound, full of love and passion.
..


Project Details
Director: Angela Christlieb
Script: Patricia Fürst, Co-author Philipp Reimer, Adaptation by: Angela Christlieb, Bady Minck
D.o.P.: Jerzy Palacz

Cast: Marc Rollinger, Jordan Fox

Produced by Bady Minck & Alexander Dumreicher-Ivanceanu. Coproduced by Bettina Brokemper Funded by Film Fund Luxembourg und FFA – German Federal Filmboard.
Festivals
Berlinale Panorama 2013
Discovery Zone Film Festival 2013
Hot Docs Toronto 2013
DocAviv 2013
Kino pod Baranami Kraków
Planet+ Doc Film Festival
Out Takes 2013
Schwule Filmtage 2013
Transilvania International Film Festival 2013
Portland Queer Doc, San Francisco
Gaymat Festival 2013, Esch-sur-Alzette
Galway Film Fleadh Festival 2013
Lubskie Lato Filmowe 2013
Fünf Seeen Festival 2013
Quebec City Film Festival 2013
Vilnius Documentary Film Festival 2013
Reykjavik International Film Festival 2013
Pornfilmfestival Berlin 2013
German Film Festival 2013, Goethe Institut
Festival Mix Brasil de Cultura da Diversidade Sao Paulo 2013
Festival Mix Brasil de Cultura da Diversidade Rio de Janeiro 2013
Festival des deutschsprachigen Films 2014
DocPoint Helsinki 2014
Thessaloniki Documentary Festival 2014
My Sound Of Music Salzburg 2014
International Documentary Encounter of Bogotá 2014
In-Edit International Film Festival Barcelona
F.A.M.E. Film & Music Experience Paris
Cork International Film Festival
About Love Among Others, Festival of films about sexual minorities
Annual European Union Film Festival Chicago
Corona Cork International Film Festival
DOCAVIV - TelAviv International Documentary Film Festival
International Documentary Filmfestival Amsterdam
IN-EDIT FESTIVAL Sao Paulo & Salvador de Bahia (music)
Luxembourg City Film Festival 2020
Queer Film Festival Esslingen 2013


Awards
Berlinale - Heiner-Carow-Award
Message to Man Film Festival St. Petersburg 2013 - Press Jury Award