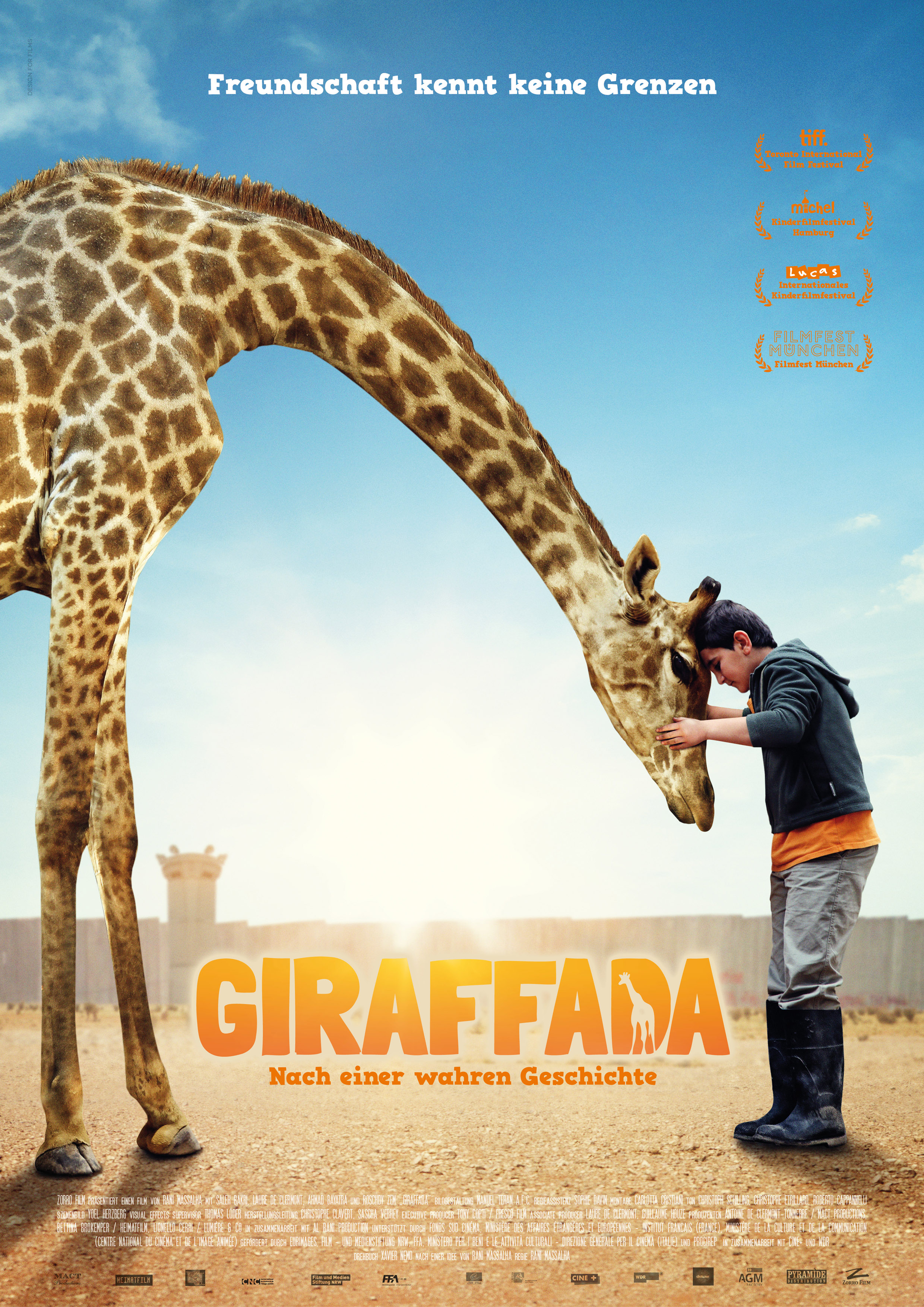 Synopsis
In order to find a new male giraffe for his beloved giraffe Rita, who has lost her mate in an air raid, young Ziad accompanies his father on his journey to steal a giraffe from an Israeli zoo and smuggle it back to the Palestinian Territories. The boy finally gaines the giraffe, but pays a high price for it. It seems mad to steal a giraffe and bring it back to an occupied military zone. But this is GIRAFFADA's initiative: bring back hope in the dramatic conflict that opposes Israel and the Palestinian people by using the symbol of the tallest and most majestic animal of nature.

Project Details
Director: Rani Massalha
Script: Xavier Nemo

Supported by Film und Medienstiftung NRW, Eurimages and FFA/Minitraité.
Festivals
Toronto International Film Festival 2013
Abu Dhabi International Film Festival 2013
Mumbai International Film Festival 2013
Panorama of European Films 2013
Bengaluru Intl Film Festival 2013
Hamburg Michel Kinderfilmfest
Göteborg International Film Festival 2014
Žiemos ekranai / Ecrans d'Hiver 2014
30th Mons International Love Film Festival 2014
Sofia International Film Festival 2014
BUFF Filmfestival 2014
Toronto Kids International Film Festival 2014
MOOOV FILM FESTIVAL 2014
Kosmorama Trondheim International Film Festival 2014
ZLÍN FILM FESTIVAL 2014
Festival du film franco-arabe en Jordanie 2014
Kristiansand International Children's Film Festival 2014
Berwick Film & Media Arts Festival 2014
Take One Action Film Festival 2014
The Toronto Palestine Film Festival 2014
28th International Festival of Films for Children and Young Adults in Iran 2014
2ème édition Ulaanbaatar International Film Festival 2014
18th Annual Arab Film Festival in San Francisco 2014
Mostra Sao Paulo 2014
Boston Palestine Film Festival 2014
Arabian Night Washington 2014
CASTELLINARIA Festival Internazionale del Cinema giovane 2014
Anti Racist Filmdays in Sweden 2014
Mostra Cinema: Oriente Médio / Middle Eastern Film Festival in Brazil 2014
Odense International Film Festival 2014
London Palestine Film Festival 2014
International Young Audience Film Festival Ale Kino! 2014
Madrid Palestine film fest 2014
Wexner Center for the Arts 2014
Bruxelles Med Film Festival 2014
Palestinian Film Festival Melbourne 2014
Filmfest München 2014
Filmfest Hamburg 2014
Festival of Tolerance 2014
Luxemburg City Film Festival 2015
Palestinian Film Festival in Dubai 2015
European Youth Film Festival of Flanders 2015
Milwaukee Muslim Women's Coalition 2015
Liverpool Arab Arts Festival (LAAF) 2015
Calgary Arab Arts Film Festival 2015
Salaam Filmfestival 2015
Festival Santiago de Compostela 2015
DC Palestinian Film & Arts Fest 2015


Awards
Abu Dhabi Film Festival 2013 - Black Pearl Award New Horizons Competition (Nominated)
Buster International Children's Film Festival 2014 - Danish Writers' Guild's Best Screenplay
Lucas - International Festival of Films for Children and Young People 2014 - Best Newcomer (Ahmad Bayatra)
Beirut International Film Festival 2014 - Jury Prize
Green Me Filmfestival, Berlin 2015 - Best Kids Film