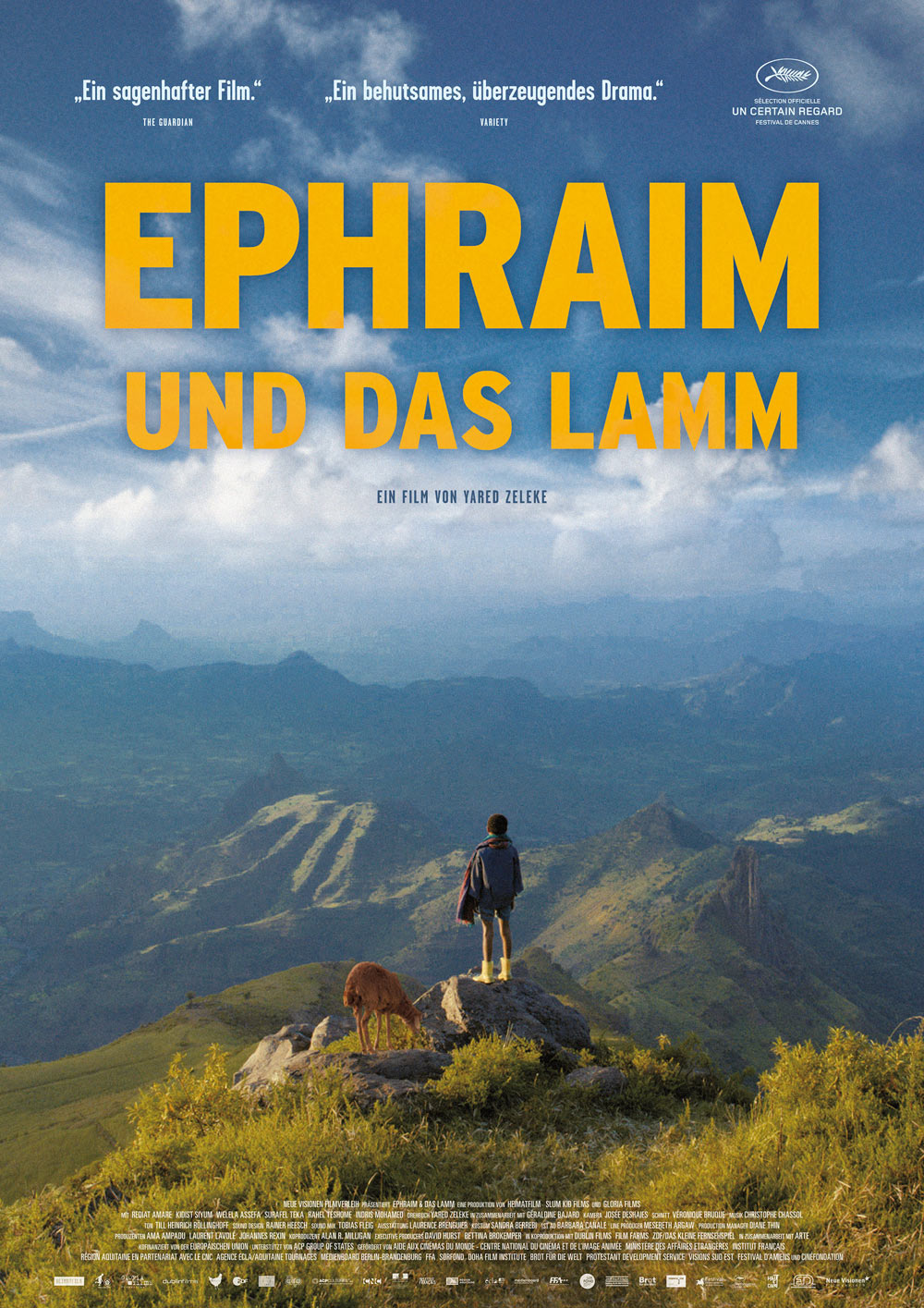 Synopsis
9-year-old Ephraim and his father Abraham live in Ethiopia's mountainous North. Chuni, a lamb gifted to him by his deceased mother, has become his best friend. Ephraim keeps treating her preferentially despite the prevailing shortage of food. When Abraham decides to look for work in Addis Abeba and leave Ephraim with relatives in the South, Ephraim has great difficulty coming to terms with the new environment. In the end, he as well as Chuni emancipate, and grow into new strength, with the hope for a new beginning!

Project Details
Script & Director: Yared Zeleke
D.o.P.: Josée Deshaies
Sound: Till Röllinghoff
Art Direction: Laurence Brenguier
Costume Design: Sandra Berrebi

Production:
Gloria Films, Laurent Lavolé
Heimatfilm, Johannes Rexin
Slum Kid Films, Ama Ampadu

Film Farms, Alan Milligan

Cast: Rediete Amare, Kidist Seyoum, Rahel Teshome, Surafel Teka

In co-production with ZDF/Arte. Supported by Medienboard Berlin-Brandenburg, FFA Minitraité, CNC and Doha Film Institute, among others.
Festivals
Premiere: Festival de Cannes - Un certain regardKarlovy Vary International Film Festival 2015
New Zealand International Film Festival 2015
Toronto International Film Festival 2015
Adelaide Film Festival (Australia) 2015
Denver International Film Festival 2015
BFI London Film Festival 2015 (First Feature Competition)
Festival du Noveau Cinéma Montréal 2015
Palm Springs International Film Festival 2016
New York Jewish Film Festival 2016
Göteborgs Lilla Filmfestival 2016
International Film Festival Rotterdam 2016
Göteborg Film Festival 2016
BUFF Film Festival (Sweden) 2016
African Film Festival AfryKamera 2016
Maryland Film Festival 2016
Kino Otok (Slovenia) 2016
Seattle International Film Festival 2016
IndieBo - Bogota Independent Film Festival 2016
Afrikanisches Filmfest Hamburg 2016


Awards
Cannes Film Festival 2013 - Golden Camera (Nominated)
Cannes Film Festival 2013 - Im Certain Regard Award (Nominated)
Adelaide Film Festival 2015 - International Feature Award (Nominated)
Amiens International Film Festival 2015 - Winner Screenplay Creation Fond
Black Reel Awards 2017 - Outstanding Foreign Language Film(Nominated)
Black Reel Awards 2017 - Outstanding Emerging Filmmaker (Nominated)
Black Reel Awards 2017 - Outstanding first Screenplay (Nominated)
Denver International Film Festival 2015 - Krysztof Kieslowski Award / Special Jury Prize
Denver International Film Festival 2015 - Best Film (Nominated)
Key West Film Festival 2016 - Best Foreign Language Film / Audience Award
London Film Festival 2015 - First Feature Compitition / Sutherland Award (Nominated)